On average, around 80 percent of the American workforce sits at a desk all day. If you're in that number, we know that you have a favorite office chair or two. To keep that furniture around as long as possible, you must learn how to clean an office chair properly.
At Augustine Furniture, we know a thing or two about how to care for office furniture. If you follow the simple steps we have outlined here, you can keep your chair looking (and rolling) like you bought it yesterday.
How to Clean an Office Chair: The Easy Way
Sadly, there are many reasons you're going to need to know how to clean an office chair. Perhaps someone spilled a sticky drink on the upholstery. Or, maybe those wheels aren't rolling along like they used to.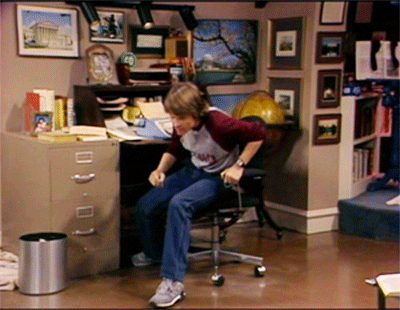 Image from Giphy
Either way, the first thing you want to do is check the manufacturer tag on the back (or under the seat) of the chair. Somewhere on that tag will be a letter, and that determines what sort of cleaning solution you can use on the upholstery.
Make sure, no matter which method you use below, that you test a small portion of the cleaning solution on a hidden part of the fabric.
How to Clean an Office Chair: The Upholstery
As we said, there is a tag on your chair that will tell you what sort of cleaning solution you can use on your upholstery. Here are what those tags mean:
W: safe to use a water-based cleaning solution
S: use s dry cleaning solvent
SW or WS: use either water-based or dry cleaning solvent
X: the item should be cleaned by a professional
Once you understand the solution you need to use, you should first vacuum the chair. Using the upholstery attachment, make sure you get in all the nooks and crannies.
Then, read the instructions thoroughly on the cleaning solution and follow them precisely. For the most part, you're going to need a damp towel to blot or rub the cleaning solution onto your chair. Again, make sure that you do a test patch first.
Once your chair dries completely, you're going to want to vacuum it again.
How to Clean an Office Chair: Spills and Stains
If you stained your chair, a solution using rubbing alcohol could get it out. Again, make sure you test the alcohol on a hidden portion before you use it on the stain. However, for the most part, a little alcohol on a cotton ball should get most stains out of upholstery fabrics.
Alcohol has very little water in it, so you should be able to use this even on S-coded chairs. Keep in mind, if you have a mesh upholstery, be careful that you don't rub too hard. And if your chair is acrylic, don't use alcohol at all.
How to Clean an Office Chair: The Wheels, Arms, and Legs
We know it's essential that your wheels work efficiently. So, gently flip that chair upside-down, and let's get started.
First, you have to remove the wheels from the chair. You may need to grab a screwdriver for this part, but some wheels screw or pop right into the frame.
Either way, grab a butter knife or a small chisel and remove all the gunk from the wheels. Then, use a damp cloth and some dishwashing soap to remove the rest of the dirt from the wheels, arms, and legs of the chair.
Now You Know How to Clean an Office Chair
Now you know how to clean an office chair. And really, it's not that hard at all. Lucky for you, we carry the best office furniture right here for you to keep clean!
What's your favorite cleaning solution for your office furniture upholstery? Tell us about it in the comments.